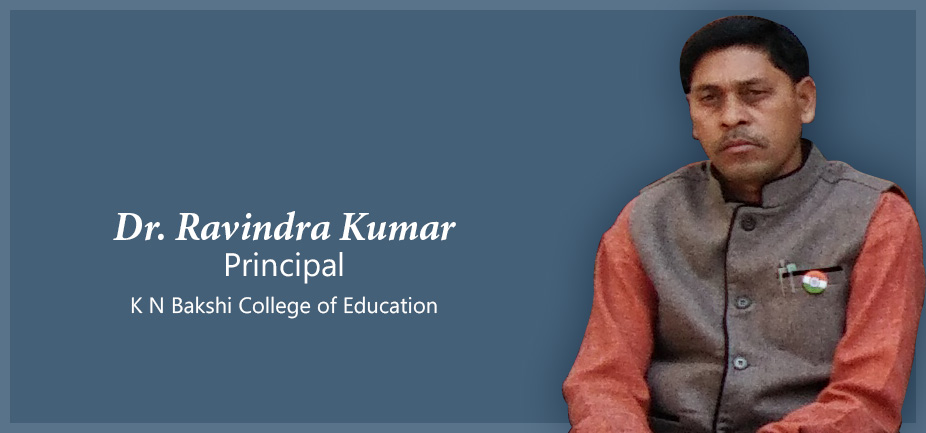 Our Primary Concern is to prepare human beings who can meet the challenges of tomorrow with creativity, a critical spirit, intelligence and competence, conscience and responsibility. Our education fosters values of sharing service and justice, thereby leading to a more equitable and human society.
We strive to mould our students into determined diligent and daring young men, who, in their pursuit of excellence, will also uphold moral values and be willing to give themselves to enrich the lives of others.
The college has a wide array of cultural, sports and personality development programs designed to bring best in the students. We have Well-qualified, trained, motivated faculty members who made K. N. Bakshi College of Education a unique academic environment with their teaching experience of very long periods.
I thank the governing council members for their constant encouragement and support, also thank all our lecturers, friends and well-wishers for their concern and support. K. N. BAKSHI College of education has experienced dynamic and open- minded management along with committed staff members. We welcome you to a wonderful academic environment.
Keeping in mind changing times we at K. N. BAKSHI College of education are engaged in chiselling and shaping our students so that they are able to take up any Challenge in the present and future in their stride. We now welcome you to the family of K. N. BAKSHI college of education for memorable stay with us to pursue your education and successfully complete your education to achieve higher goals in your life and wish you good luck.
"With Best wishes for a bright future"
Dr. Ravindra Kumar
Principal
K. N. BAKSHI COLLEGE OF EDUCATION