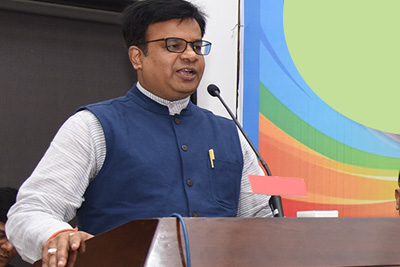 Dr. Shiv Shakti Nath Bakshi
KN Bakshi College of Education (KNBCE) has been established with the aim of setting high standards in the field of teachers training keeping in view the crucial role played by teachers in shaping the future of nation in particular and humanity at large. We have tried to create high quality facilities in accordance with the norms laid down by National Council of Teachers Education and also taken extra efforts in building an infrastructure for all round development of the students. We are proud of our highly qualified faculty members, staffs and highly skilled workforce who are fully dedicated in imparting excellent education and training to our students.
While we are committed to maintain the high quality and standard of the College, the need to strive for continuous progress and enhancement with the changing need of time is also in the priority list of the Institution. Continuously working towards excellence in both curricular and co-curricular activities by maintaining high quality and standard is our motto and hallmark of KNBCE. It provides ample opportunities and facilitates the students to avail and attain excellence in all the area of teacher education.
The environment amid which the institution is set itself speaks volumes about the 'Gurukul' type ambience with its calm, peaceful and forested surroundings fit for a learner to concentrate and focus on his studies and training. I heartily welcome all aspirants to KNBCE to shape their academic life as Teachers and become excellent builders of nation's future.